Spiel
Nested communities with evolving governance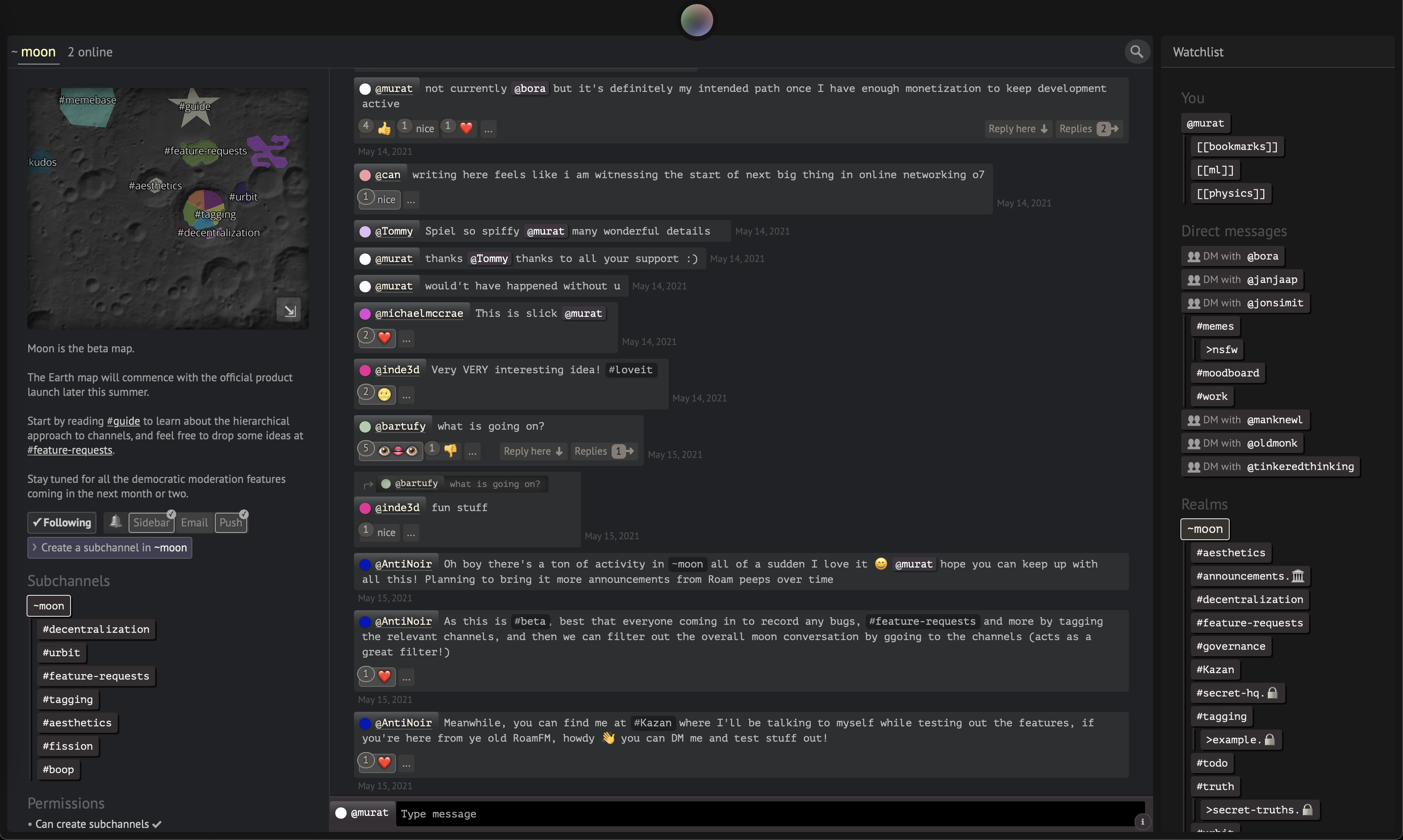 TLDR;
Hierarchies of channels to capture both social & solitary use cases

Chat, bookmarking, note-taking, second brain, micro-blogging, comment threads, wikis, articles

Formalized governance framework to let users implement evolving democracies within channels
Clear path to decentralization
Table of contents
Introduction
Implementation details
Governance
Next steps
Introduction
My background
Designer, programmer & systems architect
7+ years experience building a large, profitable & toxic community CEO.CA (60,000+ members)
Self-funding & using learnings from CEO.CA to focus on next gen product, Spiel
Spiel project status
Working Beta version is public, missing some features - https://beta.spiel.com
iOS App ready, Android app imminent
Spiel v1.0 on track to launch soon
Codebase will be open-sourced once the protocol is mature
Core design principles
Skin in the game

Communities must be governed by those with finger on the pulse

Fun & freedom

Allow people to create culture, not force culture on them

Evolution as core mechanism

Many parallel experiments allow for best governance systems to survive
Communities should be easy to "fork" in case of bad governance
Motivations
Automating moderation with fixed algorithms turned out to be impossible
Centralized moderation is exhausting and toxic for the community
Fixed reputation algorithms are biased and vulnerable to abuse - hard to scale
Moderation needs to be an immune system, not an algorithm
Low-hanging fruits
Networked thought needs to be taken social
Lots of opportunity in backlinks, tagging & forking conversations
Custom search filters as subjective feed algorithms
Maps as online social spaces (MMOs get this)
Progressive rich text editing & flexible embeds

Combine chat/blog/notes/wiki concepts under one UI
Implementation details
Social shared reality / simulacra
"What is this place? Where am I? What rules apply here?"
Concept of "a place" is important
Nested structure allows for paths (addressing)
"Where am I?" should have a meaningful answer
Inehritance within the hierarchy
Top-level channel sets initial rules
Public channels inherit rules from parent
Users can propose & pass local rule changes
Independent/private channels start new jurisdictions
Private group chats & DMs can also use nesting within them
Tagging system
Tagging a #channel cc's your post there (unless opted out)

Creates a distribution/discovery layer for conversations
"Surfing conversations", not just "catching up"

Relative/absolute channel addressing syntax inspired from Bash:

~realm - top-level channel (community root)
~realm/hashtag/nesttag/etc - slashes for infinite depth
#hashtag - shortcut for first nesting level
>nesttag - nest into child of current channel
<parenttag - refer to parent of current channel
^siblingtag - refer to another channel in the same context
@atmention - user profiles are their own top-level channels
[[wiki links]] - personal tags, always nested under author's profile (@murat/wiki_links)
#private.🔒and #independent.🏛 suffixes to prevent clashing
Reply threads are sub-channels for individual posts
Profiles as channels
User Profiles as index for all public posts by user
Combines Twitter-style "follow" concept with chat architecture
Subchannels in user profiles act as personal bookmarking, notetaking & publishing
Allows following only specific topics by a user (if used diligently)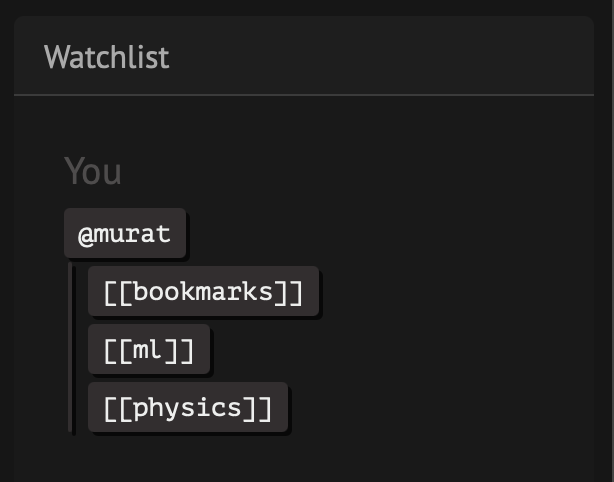 Maps
Channels optionally placed on map as polygons
Physical maps as channel discovery layer
Maps are ideal for nested contexts (zoom/pan)
Spatial relevance and finite space create fitness functions
Social Earth map & fictional maps allow for new types of shared contexts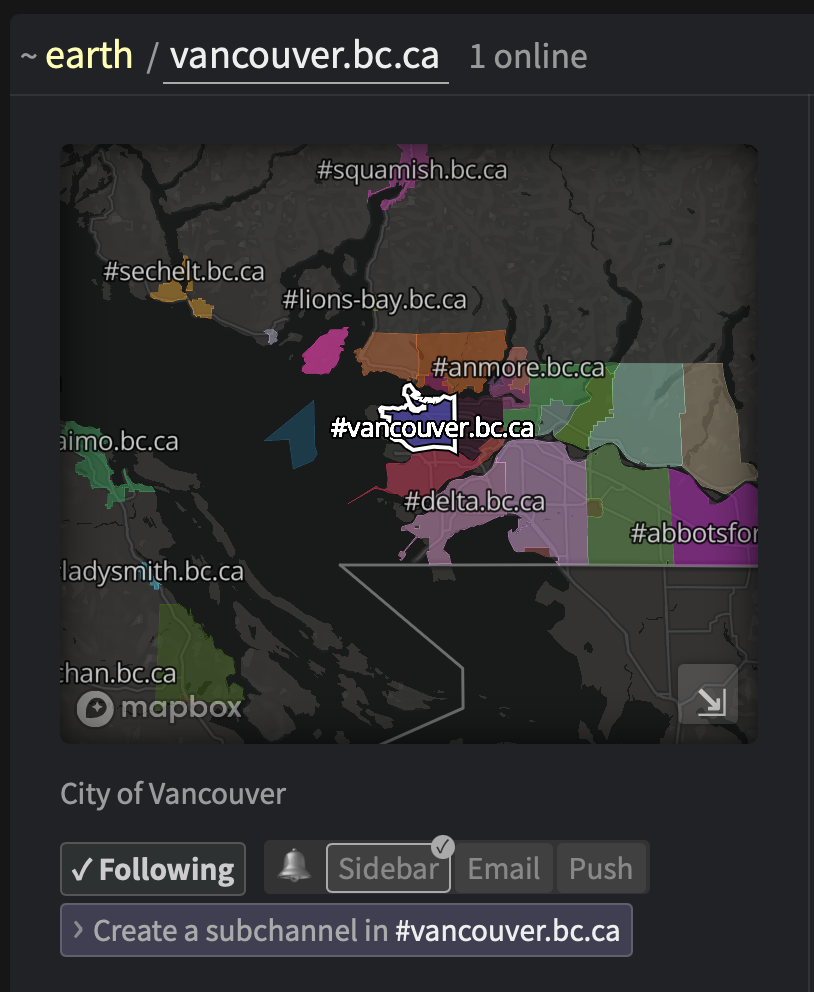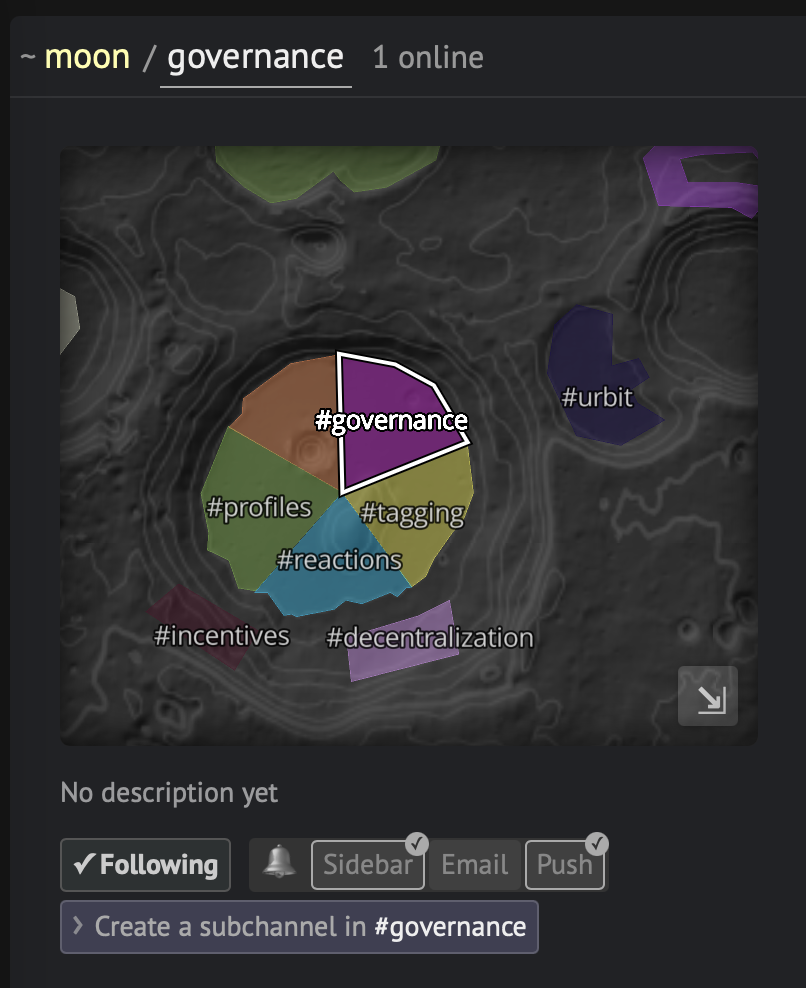 Governance
Democratic governance
Formalized into simple elements
Voting and polling as widgets within posts
Vote analytics for better visibility into collective consciousness

Breakdown of poll results by role or other filters is useful even if not directly tied to policy changes

Users propose policy changes (motions) & vote on them to steer culture
We can support all possible governance systems under one framework

Most things start as dictatorships, then slowly turn into hierarchies
The necessary feedback loop is formalized into a policies system:
Policies framework
Each circle represents a policy type.
All policies are configurable at the start. Once the community owner enables a governance policy that allows users to create motions & vote on them, the owner can slowly give more control to others with minimal effort.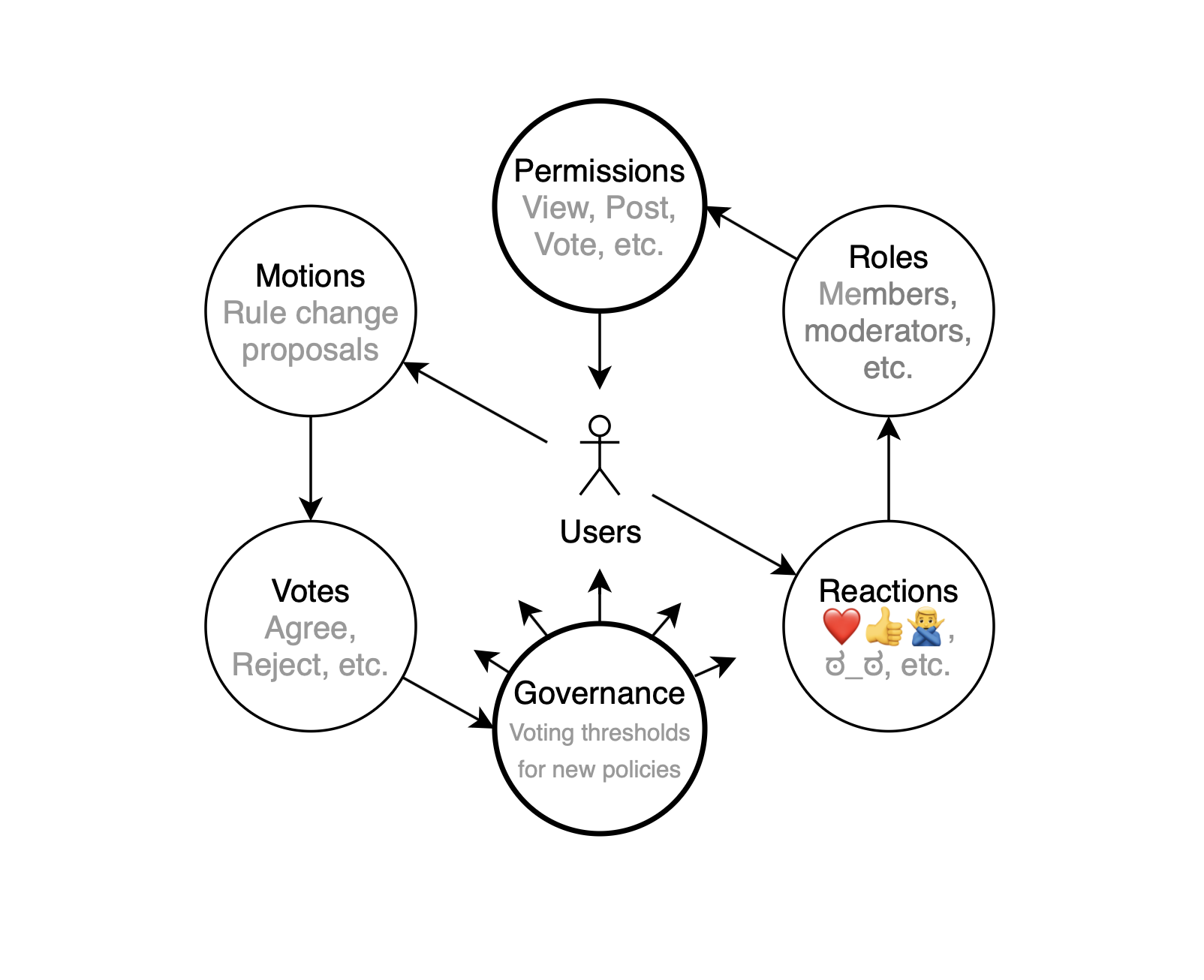 Users can start by creating harmless reactions & roles, which can gradually take on more meaning as the policies are modified over time.
Policies for channels & jurisdictions
Policies implement policyscript, which is very similar to ElasticSearch's JSON query sytax. It's a Lisp-like DSL that is mostly concerned with boolean outcomes to nested functions. It is a way of leveraging built-in functions to compose highly specific moderation frameworks. This is made user-friendly by providing a Scratch-like drag-and-drop GUI.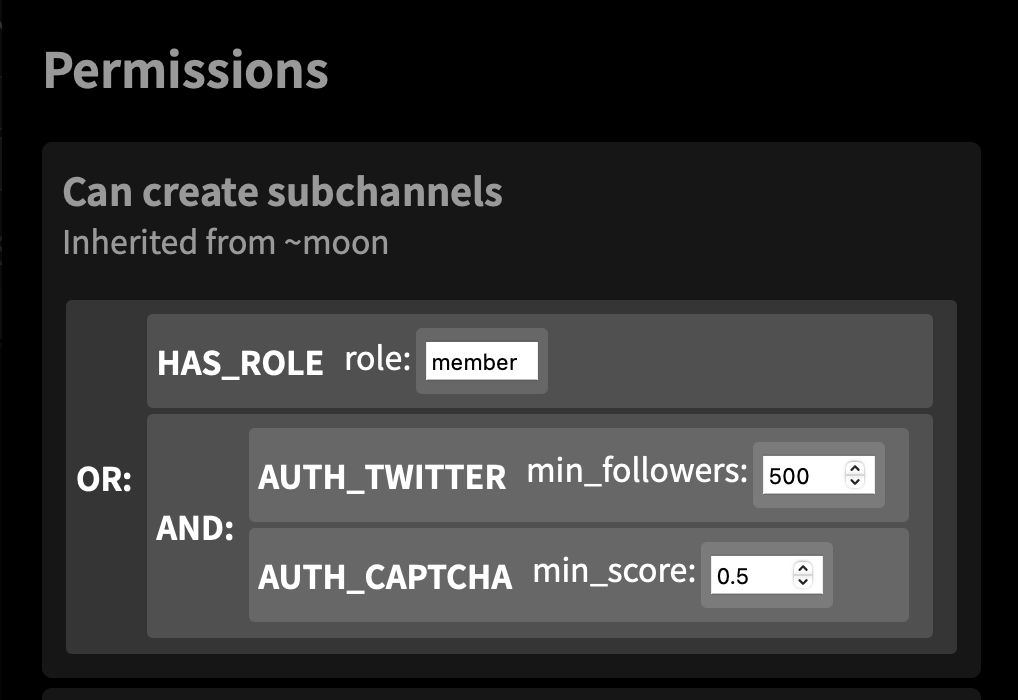 Most of the time, users will pick their policies from ready-made templates; however power-users are encouraged to compose new policy templates.
Reactions on posts. Can be used for search filtering & scoring.

Democratically curated list of reactions per context
Reactions being tied to real consequences is key for tangible culture

i.e. In a channel that encourages shitposting, 5+ "😐 Too serious" reactions punish the poster by silencing them for 3 hours.

Roles assigned/revoked as a function of user activity, reactions, etc.

i.e. User gets a Bouncer role if Member for 3 months and 10 other members vote for it
i.e. User gets Banned role if they've received the Troublemaker role more than 3 times

Permission policies are boolean expressions that determine what a user can do based on activity, roles, etc.

i.e. Users with Bouncer role can ban Members younger than 1 week
i.e. Users with Troublemaker role can post at most 1 message per hour

Governance policies dictate voting thresholds for accepting motions to change all policy types, including itself

i.e. Pass if at least 40% members vote "Yes", and zero moderators vote "No"
i.e. Reject if 30% vote "No" or 5% vote "Absolutely NOT"

Funding policies as formulas for distributing income to mods

i.e. Income is distributed equally among moderators, proportional to number of days online
The Lisp-like syntax leaves it up to users' creativity to combine core functions and compose fine-tuned channel policies.
First-principles design that covers all possible use cases
Support small & large social spaces, personal notetaking, bookmark organization & publishing & wikis all under one UI paradigm

All these use cases are emergent from the contextual policy system

Ended up being very little code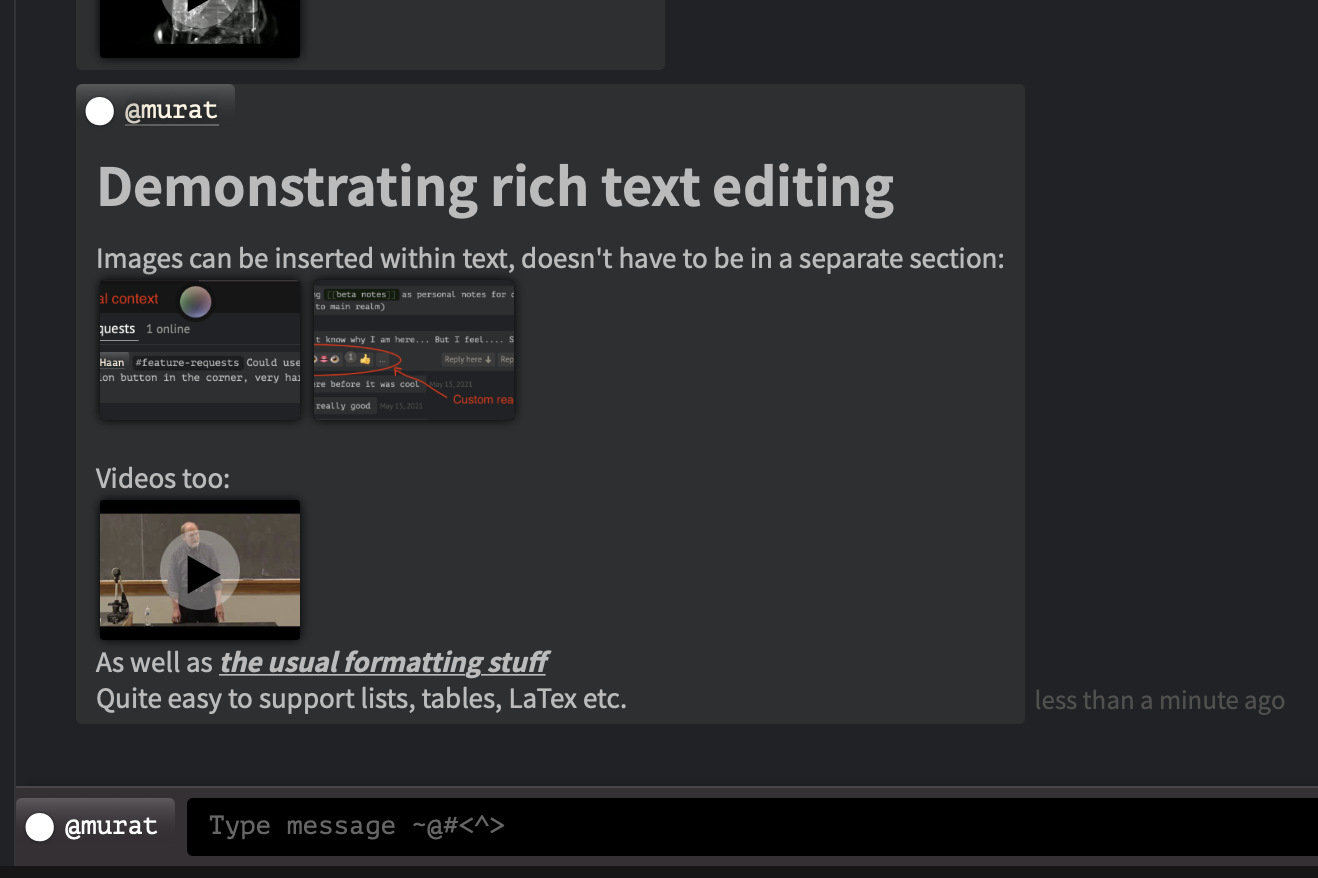 Next steps
The spice must flow
Three types of value creators: Devs, Mods, Posters
Monetization is for devs, Markets are for mods + posters
Moderation is incredibly taxing & creates much value, needs compensation
Per-channel (or jurisdiction) paywalls & fundraisers where necessary
Users can vote on funding policies to compensate mods
Planning on using BTC (Lightning Network) primarily
Customization beyond bots
Custom themes & widgets are essential to communities
Individual posts or sidebars can incorporate interactive widgets

Imagine stock charts, sports standings, live streams, e-commerce

Allow people to write their own plugins
Become the Wordpress of chat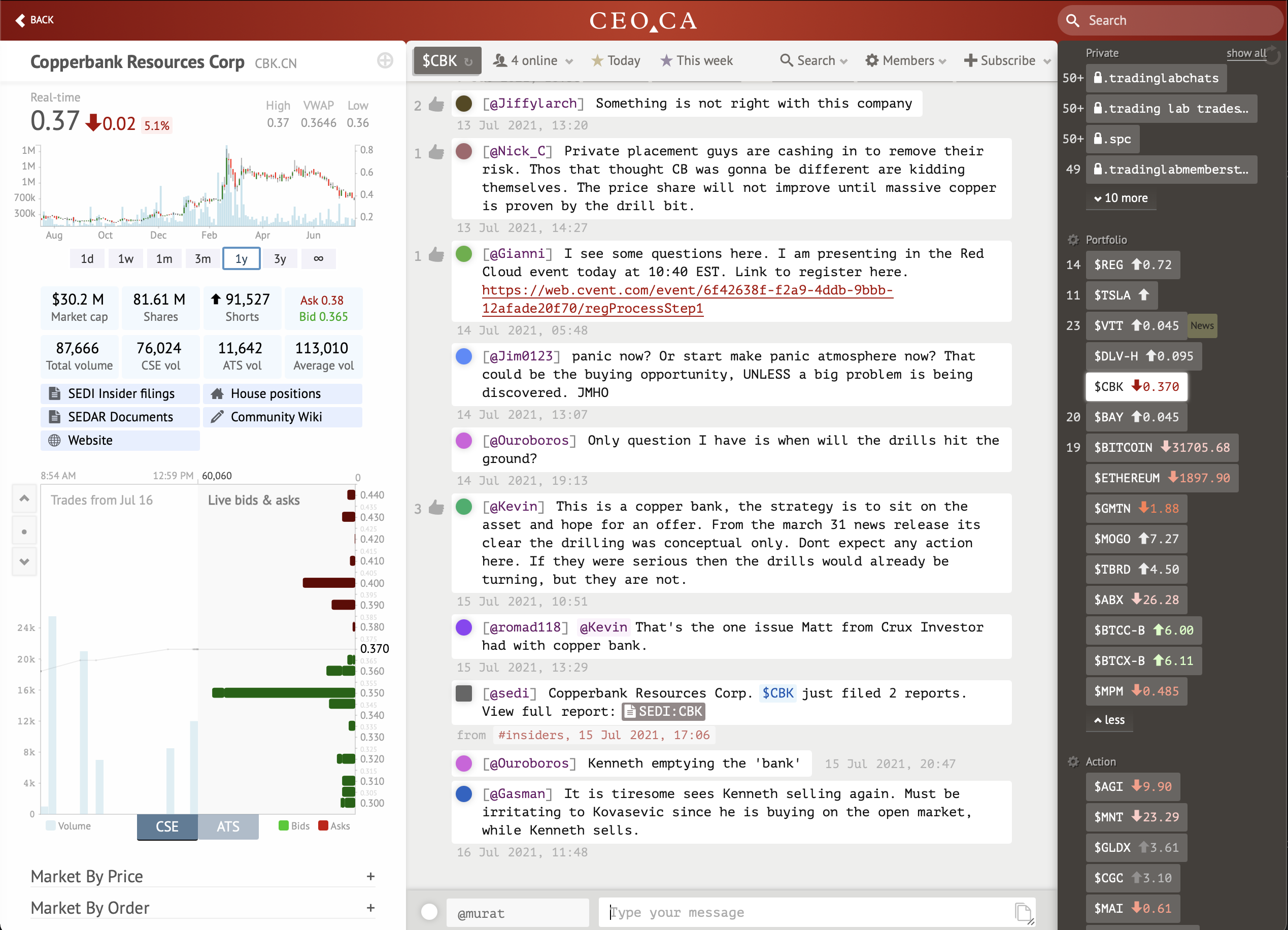 Road to decentralization
All permissions, roles & cross-tagging extend gracefully to federated third party hosting
Step 1: DNS-based federation (e-mail, IRC, mastodon)

Allow/deny lists based on domain name
Permissions based on remote roles & reputation
Users trust servers (like we do with e-mail)

Step 2: Actual DAOs

Global single sign-on & cryptographic proof of authorship
Doesn't matter which client you use
Policies enforced collectively (auditability, tamper-proof)
Other topics to consider
Encryption - Hairy topic, can get into this more later.

Potentially doable with minimal effort if acceptable to leave metadata unencrypted

Supporting existing chat protocols (Matrix, ActivityPub)
Leveraging AI-assisted rule & policy creation to increase user participation in governance
End